Welcome to June.
It is hard to believe that summer trade is upon us. With everything that has happened thus far in 2020, I feel as though I've lived through the equivalent of 2 years in just 5 months. In a lot of ways, the past several months have been a blur. It feels like just days ago I was sitting at my desk doing market research as I always do on Sunday mornings when the horrific news of Kobe Bryant took the world by surprise. That was almost five months ago.
Fast forward a few months and we have all lived through (hopefully) a global Pandemic and now a new crises which faces our people as violent protests rip through our city streets. I'm tired, friends. My thoughts and prayers are with anyone who has struggled in this Godforsaken year we call 2020. Anyone who lost someone to sickness, lost their job, lost their mind… you aren't alone in this.
You may have noticed the lack of blogs lately. It has been hard to write about the markets as the world has plenty of other things to worry about. I don't care to contribute to the noise as there is more than enough of that already. This industry among others is a constant barrage of people wanting to get your attention, normally for the purpose of selling you something. I have nothing to sell you.
I've just come off my best trading month in over a decade and the superstitious part of me has stayed away from talking about markets as to not "upset the apple cart." More trading, less talking has been my theme for 2020 and it has worked out quite well. Since this is a financial blog however, I won't leave you hanging. Here is something I am watching:
Crude oil is just coming off its best month ever. Have we missed out on all the upside it has to offer? I don't think so. This setup is one that has worked well all year: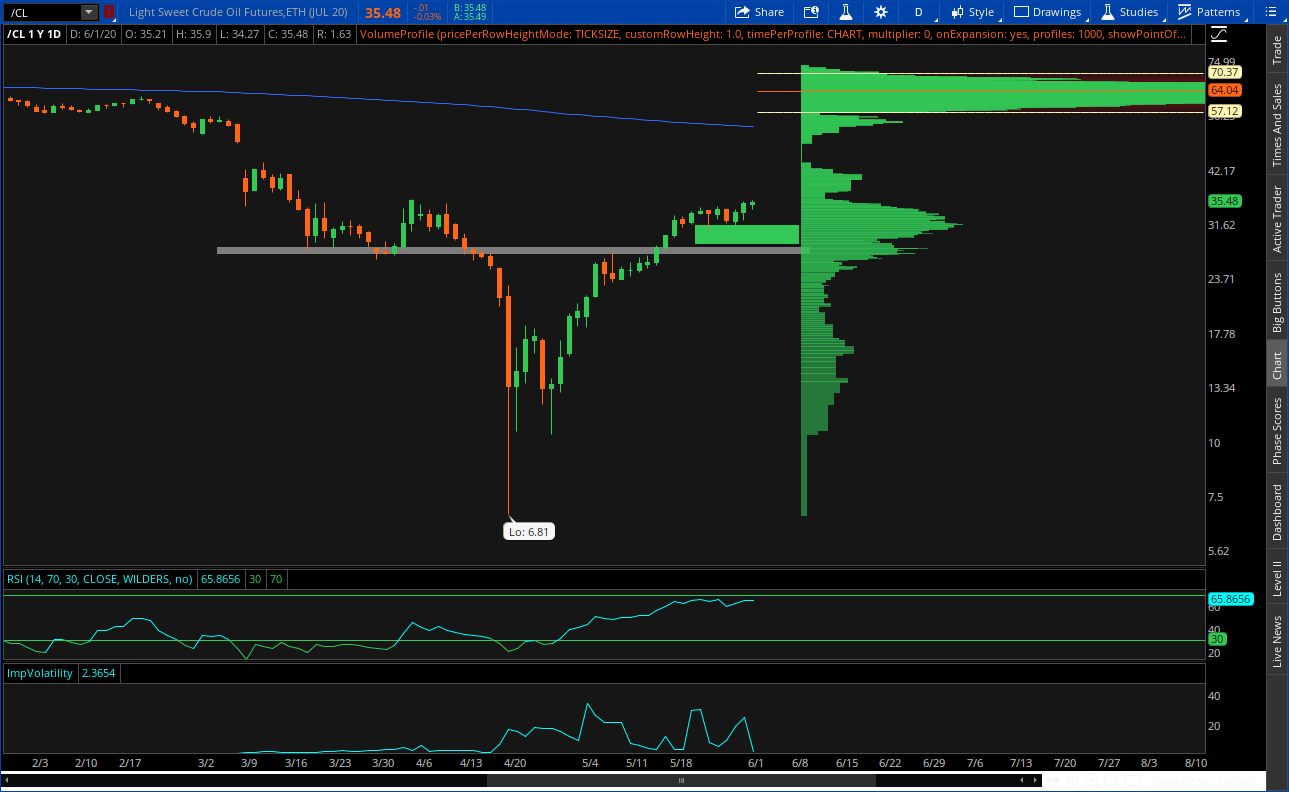 You can likely buy oil related names from here and add to them as oil comes into the $30 area. I have several positions on, both stocks and option positions out till mid summer. My faves include CVX, HP, APA, XOM and PXD. Don't get too heavy in any one name or over extend yourselves, but I think this group is primed to outperform over the summer.
I wish you all the very best start to June.
Trent J. Smalley, CMT