Shares of the internet music streaming company have gone over about as well as a turd in the punch bowl as of late, but I think they are primed for a pop soon. Taking a look at a weekly chart of $P taking into account 2.5 years of price data, we can see from the Optex Bands that price may be nearing a level of selling exhaustion.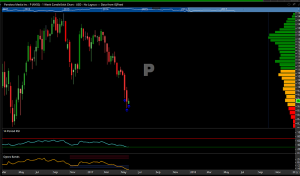 From our Volume Profile indicator, we observe that Pandora is nearing the 3rd standard deviation (red bars) and we know that price tends not to stay at these levels long before a version back towards the mean.
As price consolidates I could see another push down towards $9.00 which is where I would look to put on a position.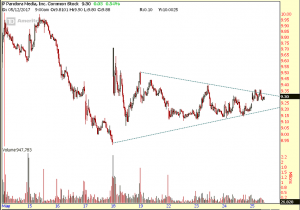 With recent rumors swirling around this stock as a possible takeover, options are a bit pricey (Implied Vol is high) but I am looking to take some July 9 calls here should we see a pullback towards $9.00.
More soon…