I am quite sure nothing good will come of this, but I have a close eye on Vivint Solar, $VSLR here. One of my RRGs tipped me off that $TAN (Solar ETF) was making a move towards the leading quadrant and may soon begin to outperform. Take a look at the volume profile of $VSLR taking into account all daily price history: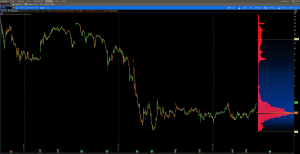 Are you seeing what I am seeing? Some vol pocket just above, no? As $VSLR makes a run at its 52 week high at $3.70 I want to be involved. A break above this price could lead to a quick move to $4.00…. $5.00…., gulp, $8.00…
I think we see a pull back before it makes a run at $3.70 but it will be worth setting an alert on this one.
It has been one hell of a busy week but I will be back with more soon.
Good evening.