One of the industries that I start to keep my eye on this time of year are the resorts and casinos. On a seasonal return basis, the months of March and April are the strongest for the group with April being the strongest of the year.

Exodus Seasonality Screens show that April returns for the group are on average 5.73% over the past 24 years of data available to the platform. That's a great average return in a month with a good amount of historical data to back that figure up. This has me interested.
Further to that, I utilize the oscillator tool in the platform to see stress points for the industry…

The chart shows that resorts and casinos as a group are in what some may call "Oversold" territory. As we can tell from the chart, when the indicator reaches these low levels, it doesn't stay there very long and reverses to the upside, almost without fail. Once, again this has me interested.
At this point, I scan the group for individual stocks that exhibit patterns that I believe will give me the best chance to profit while easily controlling risk.
Top 3:
A. $LVS Las Vegas Sands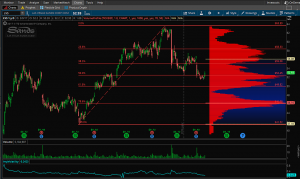 $LVS has been in a recent downtrend but just reversed at the 50% Fibonacci Retracement Level (although 50% isn't a Fib number oftentimes pullbacks will respect the 50% level) and is sitting on support at an HVN (high volume node) for all you volume profile students. I like $LVS to the upper $50s in the near term. I'm in $LVS from lower and have added more.
B. $WYNN Wynn Luxury Resort and Casino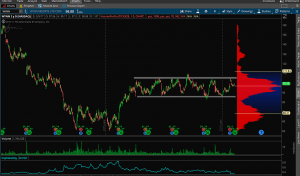 Wynn has traded in a $20 point range for the past 9 months. I've played the range the entire time via options but will be extremely interested in the long side should the stock break above its resistance around $105. A close above $105 should turn former overhead resistance into support and a jump up to $130 could happen quickly.
C. $MGM MGM Grand
 $MGM is trading in its own little range and is easy to manage here. Sitting at the lower end of the range, coinciding with the VPOC (Volume Point of Control) I could easily get long $MGM calls here. Today I am looking to take the April 30's.
If you don't have exposure to this industry, start thinking about it in the next couple of weeks. History shows it's a group that pays going into spring.