I'm taking a victory lap this morning after I pinpointed a tactical entry in $USO a couple weeks back. Out of about 15 bad calls in the energy space and with regards to Crude Oil, I sank this putt.
You may remember my post on oil being full of mathematical and statistical jargon that put you straight to sleep. However, if you managed to stay awake until the end I laid it out for you in plain English: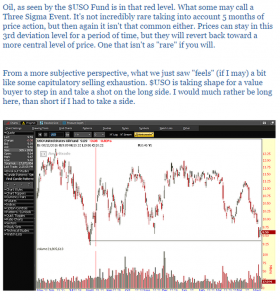 Full post here: "Oil Will Be A Buy Soon"
I sold my $USO calls this am for a nice gain.
Back with more soon…