If you have been paying any attention to the U.S. Stock Market recently, you have seen the major rotation into Biotechnology stocks. Interest in the group may be correlated to the Obamacare repeal vote, but one chart in particular was all I needed to know that this rally was for real:
$GILD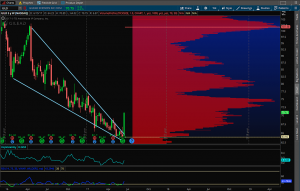 Gilead the major drug manufacturer is a stock that nearly found its way onto my DNT (Do Not Trade) list. For almost a full year since last July, I have had positions on and off in this name. I've thrown enough option premium out the window on this one to feed a family of four. This massive falling wedge pattern with pent up frustration has broken out to the upside, and a target of $80 is not out of the question.
The majors have found their way to breakouts so if you aren't in those names now, I wouldn't chase. Favorites like $REGN, $KITE, $AMGN, and $INCY have outperformed along with the group. There are still however a handful of names of the more speculative variety (read: probably shitty companies with questionable financials) that may have some left in the tank.
Running a screen of the industry group for % returns over the past two weeks shows just how enormous some of the gains have been:
Are those stock or option-like returns?! Four stocks returning over 50% in two weeks?
The question is, if the out performance continues in this group for another week, what names may follow suit and make a move higher like those above have done?
Several I have my eye on are: $SMMT, $TOCA, $ENDP, $HZNP.
If you are light on biotech I think there is still time to take part in the rotation. These companies are high beta and overly speculative in nature so promise Uncle Omaha you won't gamble with money you can't afford to lose, and keep a tight leash on your positions with stop loss orders.
Deal?