The Cup and Handle formation is a widely recognized bullish continuation pattern developed by William O'Neil in is 1988 book, "How to Make Money in Stocks." As the name describes, this formation has two parts: The Cup or the rounding bottom, and the handle which forms a range on the right hand side of the pattern. Should a breakout from the range occur, this is a signal that a continuation is expected to the upside. Let's have a look a text book example as shown in Jabil Circuit, Inc. $JBL from stockcharts.com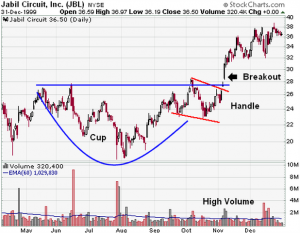 And now a look at Coffee Futures which can also be played through $JO.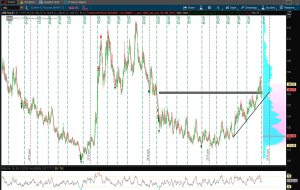 It would appear that a breakout and retest of the "Handle" is taking place here. As long as the price action respects the uptrend line, I think a breakout here is likely to occur to the upside in the weeks to come. What do you guys think?