Like many industry groups, the Cannabis stocks had a rough go of it in Q4 of last year. The selloff which in my opinion was partially warranted, saw the alternative harvest ETF (MJ) cut nearly in half, falling from $44 to $23. In my opinion, this price action had little to nothing to do with the marijuana stocks themselves, but simply the fact that risk assets were being sold. Cannabis, still in its infancy was the baby thrown out with the proverbial bathwater.
Fast forward a whole three weeks to today and price is telling a different story entirely. Cannabis as an industry group " has a YTD return of 27%, making it the best performing unlevered exchange traded fund so far in 2019. Exodus Market Intelligence shows us the top performing groups thus far YTD:

From a tactical management perspective though, booking some gains here if you got in at the lows would be warranted.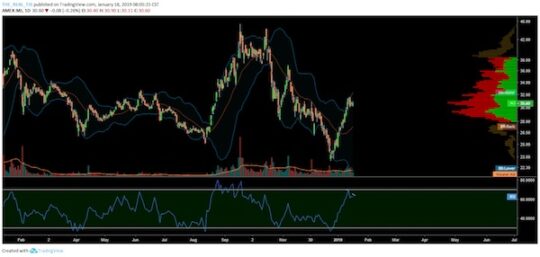 We can see price running into a confluence of volume resistance, as well as the upper boundary of the Bollinger Bands on a daily level. I think we could see a pull back to the midpoint around $26 in the near term before the next round of price discovery.
I own a basket of cannabis stocks for the long term and will stay put, but those with a shorter time frame may look to short, or at minimum lighten up in the coming days.
Happy Friday!
Trent J. Smalley, CMT