Taking a quick peek at a weekly RRG to start off the day: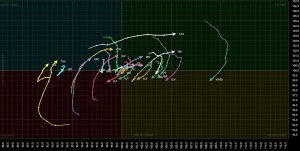 For long positions, we want to keep our eye on the groups which are in the top right (Leading) quadrant, as well as those which are exhibiting relative strength and moving into the top left quadrant.
I will continue to watch the Solar group this week (I am already overweight here), as well as pay attention to regional banks ($KRE), biotechnology, and transportation stocks. Energy has also started to move into the upper left quadrant and I have begun a top down analysis of this industry group.
RRGs are one of the most powerful tools I use to help zero in on groups I want to investigate further. I'll return soon with individual names I am looking to add this week on a short / long term basis.
TGIM.