Somehow, January is over and we find ourselves facing a new month. That was quick. The majority of January went swimmingly for my trading accounts and long term holdings, aside from the three day hiccup we have had which erased a portion of my "hard earned" gains. I'll spare you the Sharpe Ratios, Calmar and Sortino ratios and all those other metrics nobody who reads finance blogs cares about.
You want me to get to the point and tell you what to buy and sell right here and now. I get it. Well let's get into it then…
I start each month by looking at the markets here in the US from a seasonality perspective. I don't necessarily use seasonality to pick stocks, rather to lead me to sectors or industry groups I want to dig deeper into as they have been strong in the month in question.
I use a very powerful algorithmic software called Exodus Market Intelligence for this. I create screens of all kinds within Exodus, this one showing strong industry groups in the month of February.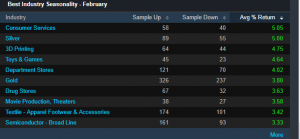 I will go through and look at all of the stocks within these groups, likely leaving out silver and gold as I treat them separately and don't include them in trading portfolios. In this list of groups I am most drawn to looking at Consumer Services, Movie Production and Theaters, and Semiconductors.
Consumer Services Stocks

I would stay away from the three or 4 stocks already up double digits on the year, but will keep an eye on the rest for technical setups I look for. I will watch EXPE, GRPN and NTRI from this list and put them on my February watch list.
Movie Production and Theaters

My eye is on all of these above and they are added to my February watch list.
Semiconductors-Broad Line

You guys know semis are a fave group of mine and we have traded them over in our trading room with a lot of success. I've been in an out of at least 75% of the names on this list.
The above lists will give you a group of stocks to keep an eye on as we kick off February. The market has exhibited a different personality this week. I took a few gains off the table, including my best trade of 2018 so far in $CMCM taking it from .90 to 5.49. For those of you not versed in the options world, that means I risked $90 and sold the contracts for $549 each. A handsome return.
It will be interesting to see what they are buying and selling out there the next two sessions. I will be in touch with any possible pockets of strength or weakness I see.
You guys! You made January the most read month on Omahacharts ever!
Thank you guys for reading.
OC