Happy President's Day. While we enjoy a day when the markets are closed, I thought it would be fun to get back to the basics and set up a trade from start to finish using an old school technical pattern known to most as "the double bottom."
More formally known as the double bottom reversal pattern, these basic setups provide traders and investors alike a frame of reference as to where to enter a trade, exit should their hypothesis be incorrect, and where to book profits if the trade plays out as intended. First a look at a text book double bottom as well as some suggestions as to how price should act: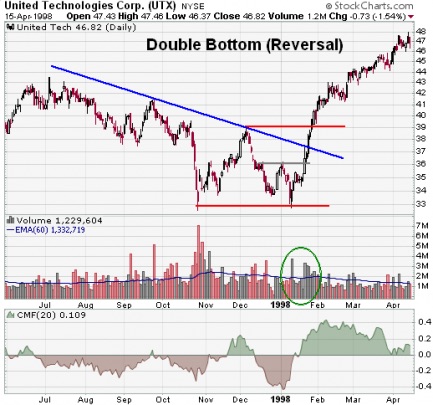 For reasons I won't get into in this post we are going to ignore volume for now, focusing only on price. To qualify as a textbook double bottom the following criterion must be met:
Price must trend down into the pattern. (thus a reversal can be made from price reversing direction)
Trough, Peak, Trough. (1st trough is the lowest point in the current downward trend, price spikes 10-20%, 2nd trough is roughly the same depth and bottoms near the 1st trough)
Price accelerates upward from the 2nd trough often leaving gaps as sentiment improves.
Price breaks out and closes above the line of resistance that marks the top of the peak between the two troughs, signalling that the reversal in price is valid.
Former resistance is to become support which is likely to be tested at least once.
This might seem like a lot, but it is actually quite simple. The nice thing about double bottoms (and tops) as they are easier to see than some other chart patterns. Here is a real life example of one that I think will play out according to the dusty old technical textbooks would have them to:
China Unicom LTD ADR ($CHU)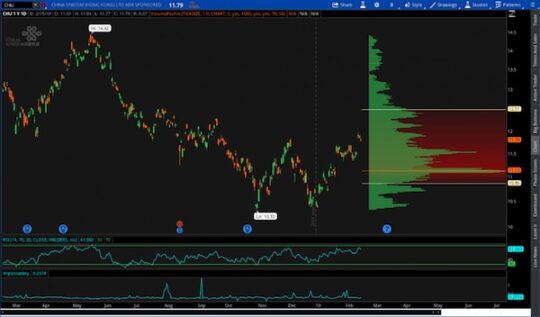 CHU checks the 1-3 boxes above no problem. The numbers 4 and 5 are the main reason for this particular blog post. It is a perfect time to watch and see if the pattern holds up or becomes invalidated. My money is on price holding up but I want to see an authoritative close above about $11.90 and close to $12. Should that happen I would look to buy on the first pullback we get, targeting a price of $12.75-13.
Keep an eye on $CHU as the markets open tomorrow and watch as this double bottom plays out, or fakes a move to make a move lower. Either way this simple chart pattern's simple rules give us defined risk / reward.
That is what trading is all about.
Trent J. Smalley, CMT