Welcome to July. I rarely participate from the long side on bullish days like the one we had today, but I wanted to pitch you an idea. Get out some spare change ready or better yet, make one less trip down to the local fireworks stand buy a few CRSP calls for July or August. Yes, I realize the risk profile is completely different when comparing the different strikes and expiries but I can't do all the work for you. That wouldn't be any fun and you wouldn't learn anything. I will however show you what I find appealing about the gene editing company based in Switzerland.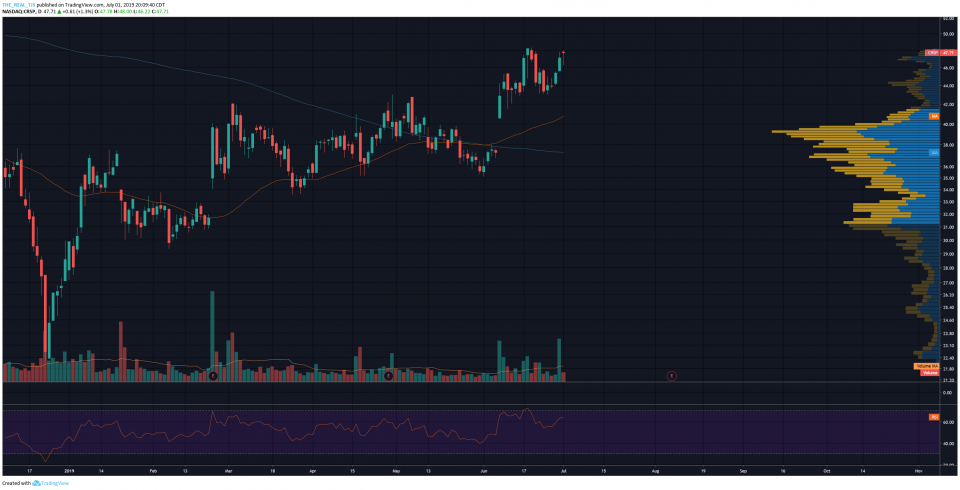 Take a look at the two most recent standout green volume bars and how price reacted in accordance. The second most recent back on June 7th accompanied a gap higher, and price has done a good job of holding strong. Friday we saw another move higher in price on the second most volume seen in this stock since February. Today's candle left a lower shadow and while the stock didn't close above its highs for the year, the red candle printed was on light volume. This leads me to believe weak selling took place. Those leaving the stock today did so perhaps in anticipation of a slow holiday week. I entered the calls in anticipation of a breakout of this name to YTD highs sometime in the next several sessions. I added a half of a position and will add the other half if price comes in a bit to carve out a handle, ideally on more low volume.
I feel like owning some CRSP calls into the 4th of July is appropriate. I can't promise that you'll double your money, but at least you won't blow your hand off.
Trent. J. Smalley, CMT