Good afternoon and happy December. I wanted to provide a quick update on the JSPM-Omaha Growth Portfolio for the month of November. A more comprehensive look will be available at the end of the year, but the following will suffice for November's statistics. The vast majority of investment managers are not going to go out of their way to post monthly performance. Obviously it's a short time frame in the world of long term investing, but we strive to outperform over shorter timeframes in the active management portfolios.
SPX Total Return (Light Green)
Vanguard Total World Stock Index (Yellow)
iShares MSCI EAFE ETF (Dark Green)
JSPM Omaha Growth Portfolio (Light Blue)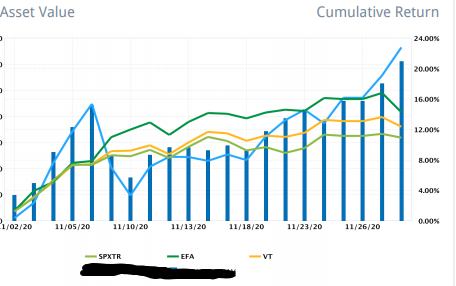 The portfolio experienced heavier than usual volatility in the first two weeks of the month. Heavily invested in technology, the strategy weathered the temporary rotation into value plays that have underperformed throughout 2020. As the comparison indexes leveled off for the second half of November, the JSPM Omaha Growth portfolio ran strongly higher. While some investors may not be comfortable with heightened volatility over the short term, November serves as a lesson that sticking with the plan pays off (provided you have a good plan).

For November, the Sharpe Ratio (measure of risk adjusted return) remained high. While the max drawdown was higher than I would have liked, technical levels were not broken in the portfolio's core positions. In some cases positions were reduced, but we held our winners that had done so well all year, and trusted that they would once again continue their uptrends. They did.
A value added monthly index (VAMI) tracks the monthly performance of a hypothetical $1000 investment, assuming reinvestment, over a period of time. VAMI is commonly used to depict a fund's overall performance to investors. The color key remains the same for all charts.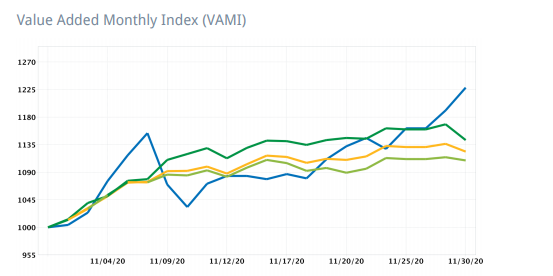 And in this abbreviated look at the portfolio statistics, here is the benchmark comparison since the inception of the growth model at the end of July…
(same color key applies)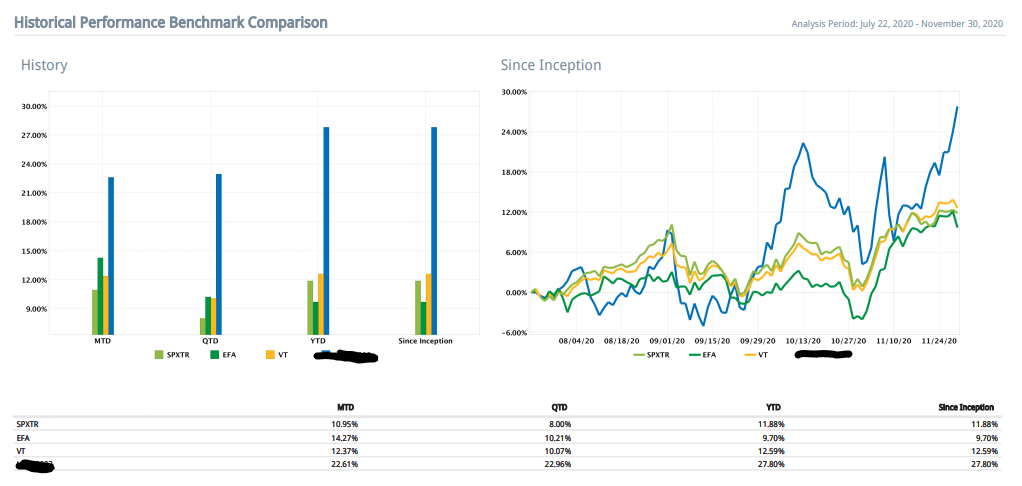 In the short life of the JSPM-Omaha Growth Portfolio, the strategy has returned approximately 7% on average per month. In roughly 4 months the portfolio has returned nearly 28%. "The market" or the benchmark S&P 500 Index has returned 13% in that time, the Dow Jones 12%, the Russell small cap index 22% and the NASDAQ 20%.
If you are noticing "lackluster" performance in your portfolio, chances are we can help. Navigate to JSPMLLC and scroll to the bottom of the page to leave us a message. We will be in touch.
Talk soon.
Trent J. Smalley, CMT