Over the weekend, the Henry Ford, Thomas Edison, Nicola Tesla, etc etc of our time took to Twitter with quite the April Fools joke: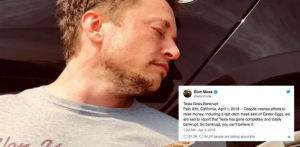 It stirred up emotion, both positive and negative within Tesla Investors. Perhaps the CEO of a company joking about their operation being bankrupt isn't typical behavior. I would argue that nothing about Elon is typical.
Whatever your feelings about him and his management style, you can't deny that he isn't among the elite entrepreneurs of all time. I read his Biography last summer and have been semi obsessed with him ever since. Tesla is the ONE stock in recent memory that I have experienced true FOMO over. (Fear of Missing Out) I took the sell off yesterday to start a long term – hopefully very long term, position in Tesla stock. You can't do calls here as the premium is out of control.
I went a full 5% starter position with room to add up to 10% of total capital in a long term IRA. My mark is just under $250 per share. There is a lot of buyer support in the green rectangle region as evidenced by volume by price and I will be adding on any drop down to $200. NO MO FOMO.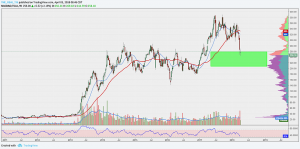 Long live the Musk.