Each week I monitor about 200 different cannabis stocks, both exchange listed and over the counter (OTC). I have long term money invested in both as I see the potential of this industry still in its infancy. In the very early going, technicals were really all that we had to go on when picking and choosing when to buy and sell these stocks. Now that we have sites like New Cannabis Ventures that track the fundamentals of these companies, we can deepen our research efforts.
As I was going through my list over the weekend I came across CV Sciences (CVSI) and found the technical setup attractive: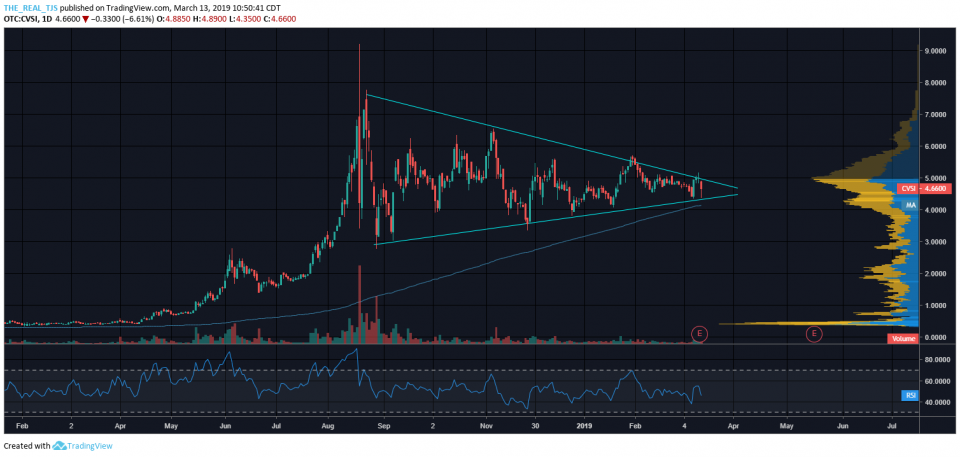 We have here a particularly defined symmetrical triangle. Often times, when price is leading up into the pattern we can expect a breakout higher as part of a continuation sequence of price. I am less concerned with the finite intricacies of a pattern when it is for a long term investment (3-5 years plus). However, if we can start a position for the long term at an attractive price level as shown by the technicals, we do just that.
I started a position here in the long term IRA this morning. Some further information about the company was also just reported by New Cannabis Ventures last night:
AS VEGAS, March 12, 2019 (GLOBE NEWSWIRE) — CV Sciences, Inc. (OTCQB:CVSI) ("CV Sciences" or the "Company") announced today its financial results for the year ended December 31, 2018.
Fiscal 2018 Financial and Operating Highlights
Record revenue of $48.2 million for 2018, an increase of 133% over 2017;
Record net income of $10.0 million, or $0.09 per fully diluted share;
Record adjusted EBITDA of $14.0 million or 29.0% of net revenue for 2018, an increase of $12.4 million from $1.6 million for 2017;
Retail distribution increases to 2,238 stores as of December 31, 2018, a 45% increase over the prior year;
Generated $12.6 million of cash from operations, with cash balance increasing to $12.7 million at year end;
Passage of 2018 Farm Bill has accelerated business development activities and is opening new channels of distribution;
Significant enhancements to management team in finance, science and regulatory functions;
CV Sciences named one of the first U.S. Hemp Authority™ Certified Manufacturers and PlusCBD Oil™ softgels named "Top Pick" by ConsumerLab.com; and
Earned the industry's first self-affirmed Generally Recognized as Safe (GRAS) status for the PlusCBD™ Gold Formula product line.
We finished 2018 with strong sales momentum and enter 2019 well positioned to capitalize on the rapidly growing consumer awareness and broad based demand for hemp CBD products. We generated 133% revenue growth during 2018 and expanded the availability of the PlusCBD™ brand to over 2,200 stores nationwide.
Trent J. Smalley, CMT