On Friday of last week, I did a piece on the relative strength seen in the cannabis group as of late. I got a few questions about my personal favorite play right here and now so I thought I would elaborate a bit on that. My favorite "play" is actually a basket of plays; one or two established companies and then several much more speculative in nature. Starting with the more established, I am a big fan of $GWPH, so much so I bought more this morning in the form of November call options.
From a seasonality perspective, $GWPH has been strongest in September, with further upside to be had in October and November as displayed in the chart below.

While I never enter a trade or investment based on sentiment alone, it is nice to have it on our side when we see something else we like about it.
GW Pharmaceuticals is one of the largest and most steady companies in this space. Sporting close to a $3 billion market cap and current Sharpe Ratio of 0.94, it is a volatile name with a Beta over 3.0 – read not for the weak stomach. It is plenty liquid, trading close to a half a million shares per day on average and over 15% of the float is held short. Some of my best winners ever, come from my high short interest screens. High Beta names have the potential to move fast to the upside and the large percentage of short sellers are more fuel to that fire. Now all we need is a setup with favorable risk/reward characteristics. I think we have that here:
(I apologize in advance for the busy chart, you chart purists will have to bear with me.)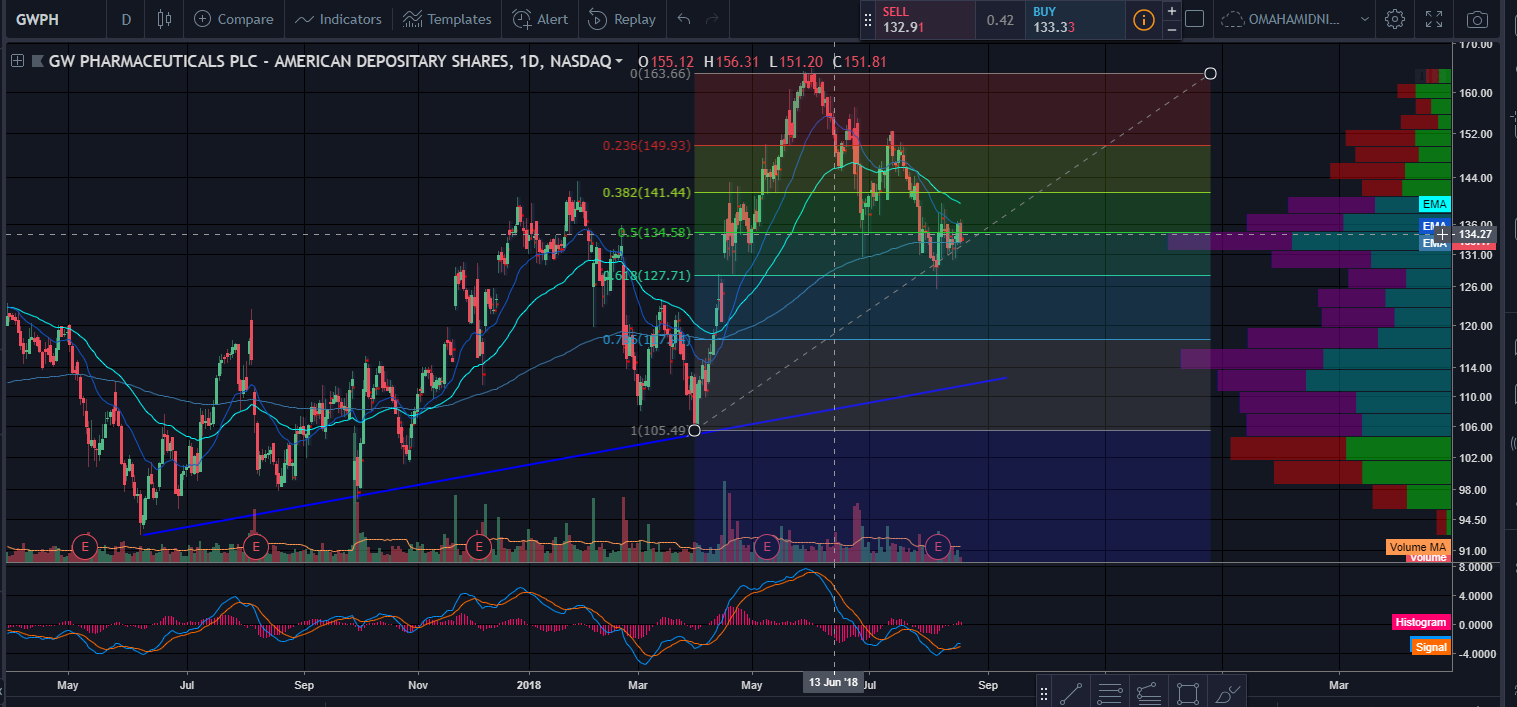 Most recently, GWPH has pulled back, retracing 0.618% of its most recent uninterrupted rally. From there, price has bounced back above the VPOC and regained the 200 day EMA, both bullish characteristics. With the strength in the industry group as of late, I can see this being a near term bottom. Just a month ago, the stock traded above $150 and I expect it to regain those levels by early October or sooner. Implied volatility is a gift right here for premium buyers, it is the lowest it has been in over a year.
This morning I added to my equity position and bought November call options.
As the speculative names traded OTC are on a huge run today, I will wait for a pullback to reveal my favorites. I don't want someone going out and chasing them on a day when they are up 10,20, or even 30%.
Happy Trading and Thank God it's Monday.
OC