A congratulations is in order. You weathered the storm that reared its ugly head in the first half of 2021. This is a storm that we predicted back at the end of 2020. Remember?
(Excerpt from "Times Like These") – December 23, 2020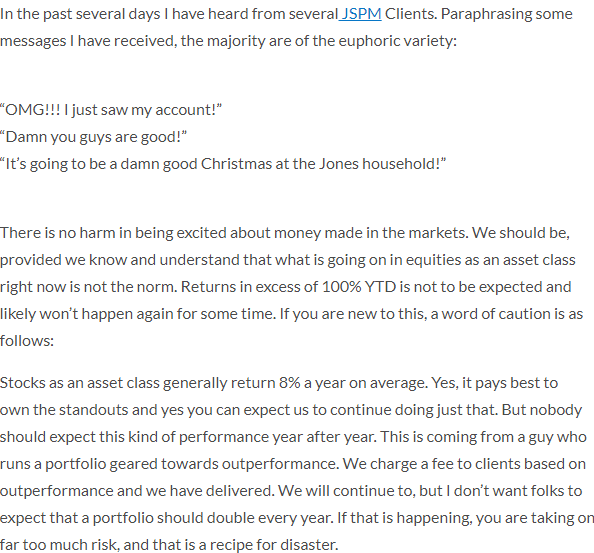 The JSPM-Omaha Growth Strategy went on to see several weeks worth of outsized gains beyond that December 23rd post. And then came the down part…
Much like I heard from clients during the incredible run we had, I heard (loudly at times) from both clients and other market particpants during the inevitable drawdown. Part of the job of an investment advisor and portfolio manager is to manage client expectations, and often times this comes in the form of being a therapist. I'm perfectly fine with both roles. And I must assume that a good therapist gives positive reinforcement and feedback when the patient navigates a particular stressful situation. You as a growth investor have done just that, and you should be commended for it. I sat there right along side you, watching your portfolio when you couldn't bear to look. I tried to reinforce that staying the course is the best plan of action. But this isn't about me. I'm seasoned and have been through these periods (and much much worse ones) time and time again. Maybe you haven't. Now you have.
Those choosing to invest in growth stocks saw the following headlines thus far in 2021:
"Stay at home stocks rocked in February."
"Inflation fears lead to further growth stock rout."
"Value stocks outperform growth stocks by the widest margin in 15 years."
And so on and so forth. And then came the up part: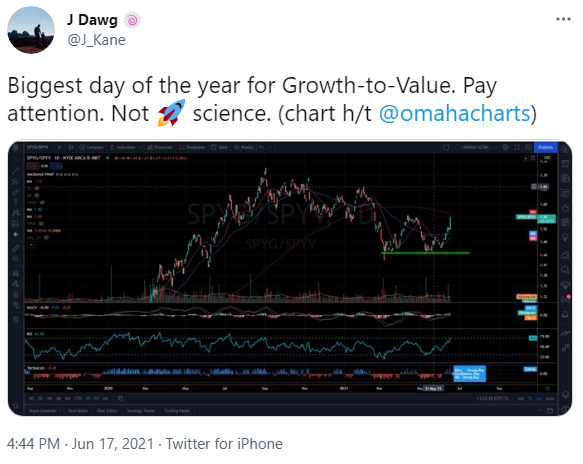 In short, it's safe to "look again." Now that some of the hysteria around inflation worries has faded into the background, we can get back to analyzing individual companies and appreciate their investable moats, relative strength in their industry groups, and total addressable markets. There are some companies we invest in that I believe offer incredible upside in the years to come, and we're always looking for additional opportunities.
Someone asked me recently, the "why" behind investing in growth stocks (and running a growth strategy). Valid question. Here is why:
Three, Five, Ten Year Returns of Multiple Factor Strategies (Growth is Green)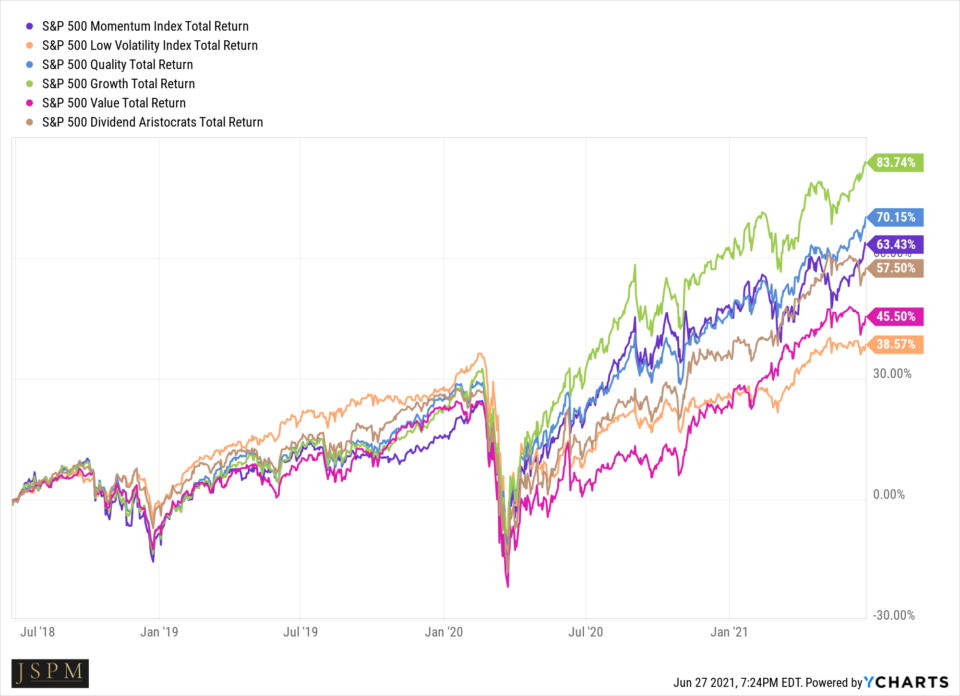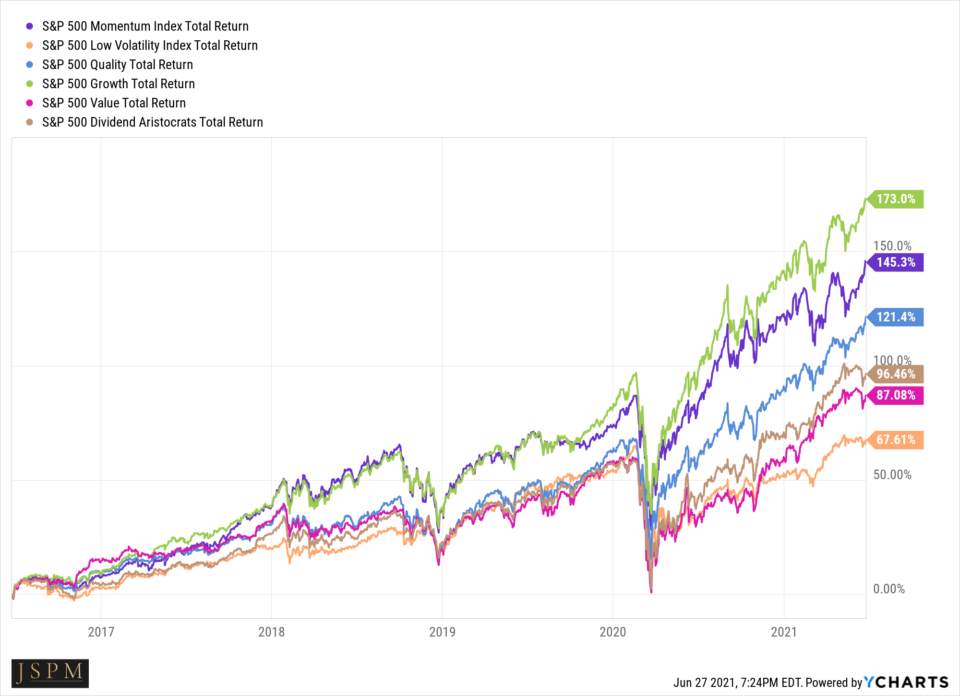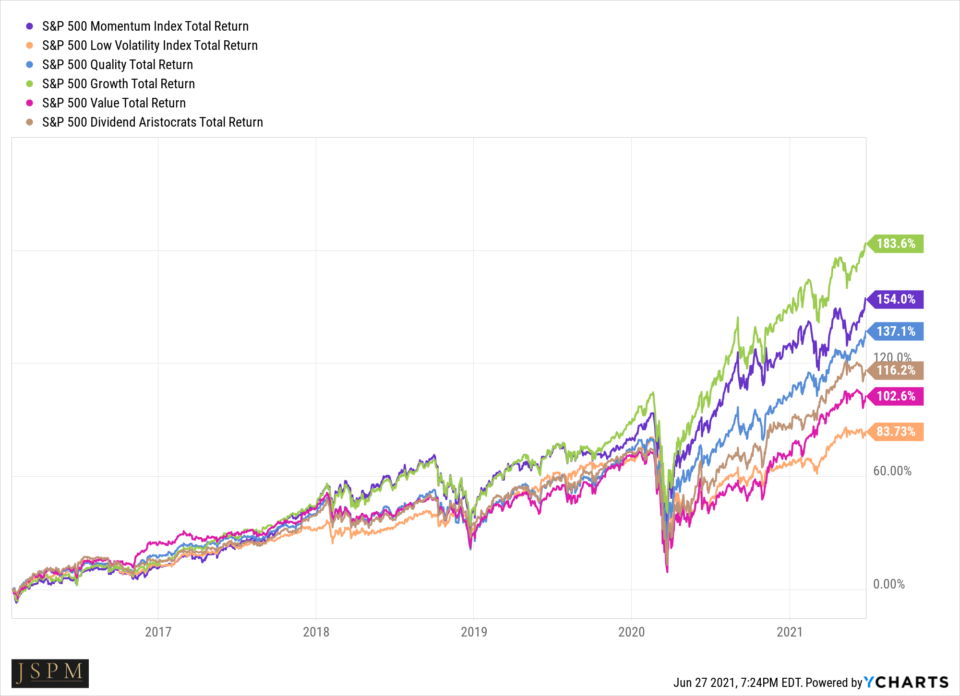 Aside from seeing that growth stocks tend to outperform over any reasonable long term period of time, one should notice one other takeaway from the above charts. That is the style which returns the lowest compound growth – Low Volatility. I likely don't need to spell it out for you, but just in case you haven't noticed, there is a tradeoff between volatility and return. If you can't stomach some uncomfortable periods, you will not achieve the sort of returns the more volatile assets stand to generate over time. It always has been and always will be this way, in investing and in life.
No risk, no return.
Sometime in the coming weeks I will be doing a post on YTD performance of the JSPM-Omaha Growth Strategy. We at JSPM have brought on a 3rd party provider to assist us in verifying performance and look forward to sharing with you performance of our strategies on a quarterly basis as soon as possible.
Until then, we hope you have had a good 2021 thus far and look forward to hearing from you in the back half of the year.
Trent J. Smalley, CMT