Back to the basics here since your brain is mostly likely still foggy from your booze filled weekend. Bitcoin is consolidating, possibly looking to breakout. A textbook pennant pattern is setting up in the cryptocurrency. Bull pennants often mark the midway point in a move. The "Flagpole" was backed by a strong move with volume confirming.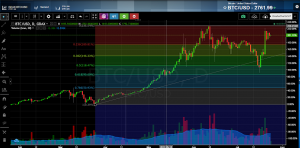 I've been long $BTC for some time, long term hold. But would look to trade a breakout here if the opportunity presents itself.
Be careful with these. Crypto is the wild west of trading and I don't want you losing your lunch money. Do your due diligence before funding an account.
Back with more soon.