Yesterday, billionaire investor and head of Avenue Capital Marc Lasry said in an interview on CNBC's "Squawk Box" that he is personally invested in Bitcoin and sees it reaching $40,000.
"As it gets more into the mainstream, and as more markets end up allowing it to trade where it's freely tradable, to me that's more of the bet," Lasry said in a "Squawk Box" interview, adding that he sees bitcoin investors making five to 10 times their money in three to five years."
Just this past weekend, articles ran highlighting how overall interest in BTC has fallen to 8 month lows with 24 hour volume under $3 billion since the first time since early November of last year. Google Trends have shown searches for Bitcoin and cryptocurrency markets plummet as interest wanes. Just under a month ago I tweeted that if you had an interest, the time was near. It appears that time has come.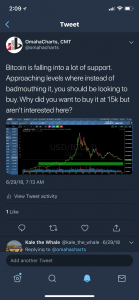 The overall volume doubled in 3 days and prices have run from under $6,000 to near $7,500 in weeks. We will term this the "Marc Lasry might have but probably didn't read OmahaChart's Tweet rally."
Now that Bitcoin is seemingly back in fashion, we can count on finance's finest to shower us with outrageous price predictions. Fortunately we can do better than that, relying on technical patterns and an understanding of measured move analysis.
An updated Bitcoin chart follows: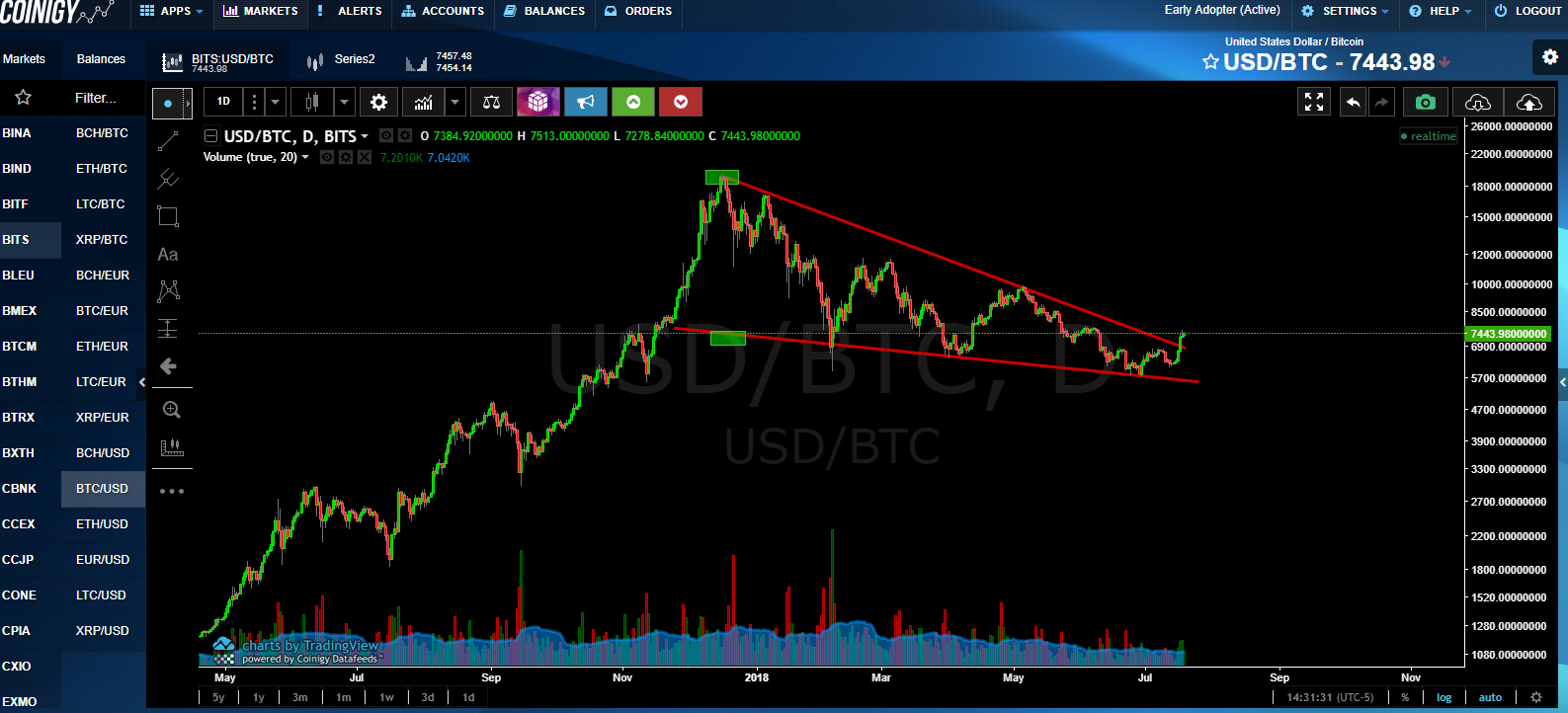 At the outset of 2018, BTC traded near $19,500 before selling off, consolidating through both price and time. To take a measured move we start with the high, and measure the distance in the thickest part of the technical pattern in play, in this case a falling wedge. The distance approximately is $19500-7500 = $12,000. Now that we have the distance from the highest to the lowest part of the pattern, we add this to the price traded at the breakout of the falling wedge, better known as the Marc Lasry read Omaha's blog rally." The breakout occurred near $7000. Adding our aforementioned $12,000 to the breakout level of $7,000 gives us a price target of $19,000.
But wait, didn't Lasry say he predicted Bitcoin reaching $40,000? Yes, but remember he gave it 3-5 years. Our price movement occurred in roughly 7 months. Knowing the sort of mania possible in cryptocurrency however, it might not take 7 months to move $12,000. Bitcoin ascended nearly $16,000 last fall in a period of 4 months.
We can't ever know for sure of course, but my bets are for BTC to end 2018 north of $15,000. In other words, I think it is roughly a double before Santa pays us a visit.
I think we get a pull back in the coming weeks and that is where you will want to load up if not already involved.
OC